Danielle Pain – Osteopath & Clinical Director
Danielle graduated from Oxford Brookes University with an Honours Degree in Osteopathy and has a post graduate qualification in Medical Acupuncture, kinesiology taping and is a Fellow of Applied Functional Science (AFS) with the Gray Institute for Functional Transformation.  Danielle is registered with the General Osteopathic Council and is a member of the British Osteopathic Association.
After graduating, Danielle stayed in Oxford to start The Pain Clinic and has experience treating a wide array of conditions and patients using a variety of techniques from traditional osteopathic principles and practises, to the latest research in rehabilitation.
Having worked in a nursing home prior to her degree, Danielle has since returned to a local nursing home to offer relief of pain and a better quality of life for the elderly, as well as giving free presentations on ways to relieve pain from arthritis to the senior citizens of Risinghurst Community Centre and to the Seniors at Studley Wood Golf Club, offering advice and specific stretches and exercises to help prevent musculoskeletal injuries and conditions.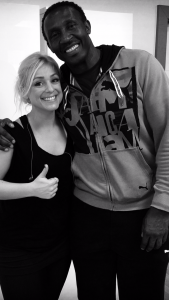 Danielle works regularly with Olympic athletes, where she indulges her interest in running biomechanics. She worked with Linford Christie's sprint team, including James Ellington, Nigel Levine, Greg Cackett and other GB athletes in their preparation for the 2016 Rio Olympic Games and she likes to integrate strength and conditioning with her rehabilitative osteopathic treatments. She has also worked with Oxford Harlequins 1st Rugby Team, their academy team and Under 15s, providing strength and conditioning, injury rehabilitation, pre-game strapping, sports massage and their first line pitch-side medical service.
Danielle has a passion for educating patients about the nature of their condition, contributing and maintaining factors and ways in which patients can take control of their recovery and avoid re-injury.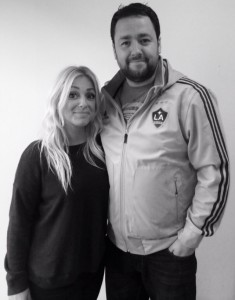 Danielle is also the personal osteopath to comedian and actor, Jason Manford and toured the country in 2016 with the production of Chitty Chitty Bang Bang, supporting Jason, who starred in the show.
Testimonials for Danielle:
"I have had several treatments with Danielle at The Pain Clinic and she is definitely now my preferred osteopath. I came to her for a sports massage when I was touring with The Producers in Oxford but she soon made it clear that this was not the best solution for my ankle, shoulder and hip pains. I was impressed with her conscientious approach to treatment and her explanation of why I was constantly needing massages to feel better. Her thorough treatment plan for me means that I am now finally working towards resolving some chronic football ankle injuries, the effects of which I have been suffering with for years. Danielle demonstrates her vast knowledge by thoroughly explaining the cause of my aches and pains, giving me rehabilitative homework between treatments (and reprimanding me when I forget to do them), marking my progress and providing appropriate and effective treatment each time. Bring on the return of a pain-free body, thanks to Danielle's magic hands!"
Jason Manford, Comedian
"Danielle treated me during my time playing the Baroness in the theatre production of Chitty Chitty Bang Bang, which is a very physically demanding musical.  I was experiencing a lot of pain and swelling in my knee and Danielle helped get me through it.  She gave me rehab advice to help me between her visits and I would definitely recommend The Pain Clinic to anyone in need of treatment."
Michelle Collins, Actress
"Throughout my career I have unfortunately had many injuries, including hamstring tears and groin strains, which in turn means I have had the pleasure of working with many medical teams across the globe. I must say, without doubt, Danielle is someone who I regard as one of the best. I wouldn't hesitate to recommend her and I will certainly visit again for treatment."
Iwan Thomas MBE, Olympic, world, European and Commonwealth medal winning 400m runner